Plextek RF Integration part of the inaugural Agilent Certified Expert program
Highest formal professional recognition for Plextek RF Integration team's expertise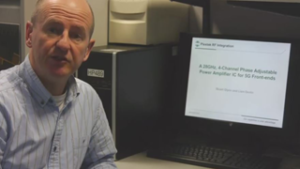 Cambridge, UK – Liam Devlin and Andy Dearn of Plextek RF Integration, a part of the Plextek Group, have become two of the industry's first professionals to be recognised by the new Agilent Certified Expert (ACE) program. The ACE program recognises the most technically advanced professionals in the Agilent EEsof EDA user community and certifies that they hold the highest level of practical expertise and theoretical knowledge in the application of Agilent EEsof EDA design tools for successful product design and modeling.
The Plextek RF Integration team's expertise was recognised following the successful design of more than 70 custom Microwave Monolithic Integrated Circuits (MMICs) using Agilent's Advanced Design System (ADS), the world's leading electronic design automation software for RF, microwave, and high speed digital applications. These ICs are used in a wide range of applications, from test instrumentation to microwave point-to-point links.
As a member the Agilent EEsof EDA advanced user community, Plextek RF Integration will be a part of Agilent's network for potential consulting prospects and have the exclusive opportunity to help influence the development of Agilent's next generation EDA tools.
Liam Devlin, CEO at Plextek RF Integration commented: "It is privilege to become inaugural members of Agilent's ACE program and receive professional recognition and appreciation for Plextek RF Integration's dedication and commitment to the microwave and RF design process. Participation in the ACE program will help us to push the boundaries of our professional expertise, ensuring that we stay at the leading edge and continue accelerating the development of better products for our customers, using design flows built on Agilent's device modeling, electro-thermal, electromagnetic, circuit and system design and simulation tools."