Videos
PRFI has a growing library of video tutorials on various aspects of microwave, mmWave and MMIC design. They feature examples of past design IP that we can use to help develop custom products for our clients with reduced risk and timescales.
Videos can be viewed by clicking the individual links below, or by visiting our YouTube channel.
A short video summarising PRFI's capabilities for IC and module design at microwave and mmWave frequencies,
Rob Smith describes how to use the FEM simulator in Keysight ADS to simulate microwave package transitions and wire bonds. The key to success is to co-design the IC and the package, in order to optimise the performance of the packaged device rather than the IC on its own.
Liam Devlin explains the challenges of packaging devices at mmWave frequencies, and the options and techniques available to achieve the best results.
Liam Devlin describes a 4-channel mmWave PA for use in 5G applications, presented at the November 2019 ARMMS conference
Rob Smith describes a fully-integrated 3.5GHz single-chip GaN Doherty PA for sub-6GHz 5G at a recent ARMMS conference
This video describes the development of a dual channel PA housed in a custom laminate SMT package that covers the full 26GHz 5G band.
Liam Devlin speaking at the 2018 Interlligent RF Design Seminar. The roll-out of 5G promises a step change in wireless data-rates; one of the main strategies to facilitate this will be a move to mm-wave frequencies
Liam Devlin speaking at the April 2018 meeting of the ARMMS RF and Microwave Society
Robert Smith of PRFI speaking at the April 2018 meeting of the ARMMS RF and Microwave Society
Technical tutorial video describing the design, layout and performance of a dual-band power amplifier (PA) MMIC, capable of electronically switching its operating band between the 26GHz and 32GHz 5G bands.
Liam Devlin presents on mmWave components and technologies for 5G applications, at a recent Interlligent UK conference held in Cambridge, UK.
Helen Duncan interviews Rob Smith on useful tips for GaN Power Amplifier Design
In this video Stuart Glynn describes the design of an X-band GaN PA using a GaN process from UMS, on keysight's ADS simulator
Liam and Helen Duncan present the second of our "Technical Discussions" series on the advantages of custom MMIC design.
Liam and Helen Duncan present the first of our "Technical Discussions" series on the future use of mmWave technology in 5G
Liam presents the design of a 4-channel Power Amplifier IC with in-built phase control, for 5G front-end applications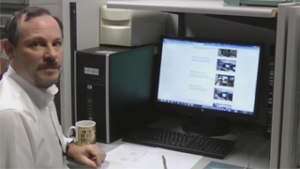 In this video Andy explains intermod products in amplifiers. In particular, 2-tone OIP2 is explained, and compared to 1-tone second harmonic intercept point.