Plextek RFI unveils phased array GaN MMIC reference design
CAMBRIDGE, UK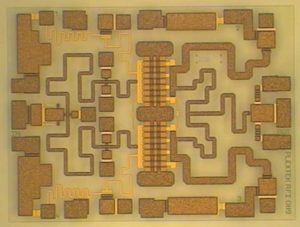 —Plextek RFI, a UK design house specialising in microwave and millimetre-wave IC design, has announced a new reference design for a GaN power amplifier (PA) MMIC for use in X-band active phased array radar applications.
"Active phased arrays require numerous PAs, which need to have high efficiency, and to have a small size and relatively low cost," said Liam Devlin, CEO of Plextek RFI. "Our new design has a die size of only 1.5mm x 2mm, which means around 2,300 PAs can be fabricated on a single 4-inch (100mm) diameter wafer. This makes the cost very competitive compared with other commercially-available MMICs offering this level of RF output power."
The X-band GaN PA MMIC covers 9.0 – 11.5GHz and delivers 7W (+38.5dBm) of RF output power from a +29dBm input, with a Power Added Efficiency (PAE) of 42%. This means that it can be driven by readily available GaAs parts when used as the output PA stage.
Plextek RFI designed the MMIC using Keysight ADS 2015, and it was manufactured by UMS on its 0.25µm gate length GaN-on-SiC process (GH25).
"As the IC is designed and manufactured in Europe, it will have the added advantage of not being subject to US export control," added Liam Devlin.