Microwave and mmWave Circuits Examples
Additional details about some of our microwave and mmWave circuit designs.
RF and Microwave GaN PAs using Discrete Packaged Transistors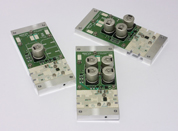 PRFI has designed numerous Power Amplifier (PA) PCBs and modules using commercially available discrete packaged transistors at frequencies from 1 to 10GHz. Examples include a 125W PA with a PAE of 70% and 20dB small signal gain, covering 960 to 1215MHz. This used a ceramic packaged transistor, the stated performance is for the connectorised module. More details on this and other L-band GaN PA designs can be found using the link below. We have used over-moulded SMT-packaged GaN transistors to design PAs at frequencies up to X-band. The second link below provides details of an amplifier design optimized for the 9.3 to 9.5GHz band using a plastic packaged transistor. The module offered 11dB of small signal gain and an RF output power of more than +37dBm with 55% drain efficiency at 3dB gain compression. This PA also included fast drain switching circuitry to facilitate pulsed operation with a turn-on time of just 20ns.
Read a technical paper about L-band GaN PAs
Read a white paper about our 5W X-band PA design
Single Chip 3.5GHz Doherty GaN PA for sub-6GHz 5G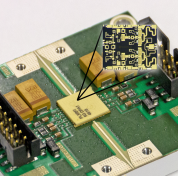 The Doherty configuration is a well-established efficiency enhancement technique for communications PAs. The photo to the right shows a fully integrated single-chip Doherty GaN PA MMIC designed for 5G applications at 3.5GHz. It was fabricated on a 0.4µm gate length GaN-on-SiC process from GCS. The MMIC is packaged in a laminate SMT QFN. The measured performance of the packaged part on a representative evaluation PCB demonstrated a Psat of 45dBm with a peak PAE of 50%. The PAE at 8dB power back-off was 31.5%. Measurements were also made using a 100MHz 5G NR signal at 3.5GHz with 11.5dB PAPR and demonstrated an EVM of 3.5% and ACLR of less than -33dBc at an average power of 36dBm (4W).
Read a technical paper on the 3.5GHz Doherty GaN design
Watch a video presentation about the 3.5GHz Doherty GaN design
39GHz SMT Packaged PA for 5G Applications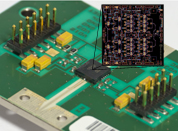 The FCC has allocated flexible use spectrum at 39GHz (38.6 to 40GHz) and 37GHz (37 to 38.6GHz) with 5G systems in mind. PRFI has developed an SMT Power Amplifier (PA) that provides around 20dB gain and has an output referred IP3 of +40dBm across both of these bands. This performance is referenced to the package ports when evaluated on a representative PCB, as shown in the photograph to the right. The IC is realized on a high volume 0.15µm GaAs PHEMT process and is assembled into an air-cavity QFN plastic package. An on-chip power detector is also included to allow measurement of the transmitted output power. PRFI has also developed many other components for 5G applications.
Watch a video presentation on mmWave components and technologies for 5G applications
X-band 200W PA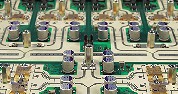 As solid-state Power Amplifier (PA) technology continues to grow in maturity and capability the replacement of tube based devices with solid-state PAs has become increasingly viable. PRFI was able to assist a client in replacing a magnetron based X-band radar with a solid-state system undertaking parts of the radar system design and the complete development of a 200W solid state PA. The PA was capable of CW operation but its intended use was pulsed with short rise times (<10ns) and a variety of duty cycles. PRFI's solution was based on mature GaAs MESFET devices and low loss power combiners. The resulting amplifier required an input drive of just 20mW to deliver 200W to a waveguide output.
Front-end modules for FMCW radar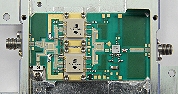 Frequency Modulated Continuous Wave (FMCW) radars are capable of measuring distances to high levels of accuracy and detecting small targets with lower levels of peak transmit power than conventional pulsed radar. Ku band components developed by PRFI for the microwave front end of the Blighter FMCW radar include an LNA-filter module with 26dB gain and 2.5dB NF, a 6W PA module with temperature compensated biasing, an image reject IQ downconverter with integral LO driver amplifier, a DDS based synthesiser to allow ultra-linear frequency sweeps and a single-sideband upconverter.
More information on the Blighter Ku band FMCW radar design
E-band MMICs for line-of-sight links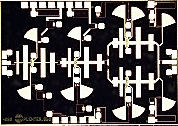 E-band spectrum at 71-76GHz and 81-86GHz offers worldwide availability of a large amount of spectrum under a "light license" basis. Whilst the challenges of designing components and sub-systems operating at E-band are significant the potential benefits of using E-band are very attractive for bandwidth hungry applications such as very high data rate point to point links for mobile communications back-haul. PRFI has developed E-band MMICs including image reject mixers, single-sideband upconverters, VVAs and amplifiers using commercially available IC processes, and has the expertise to help customers develop commercially viable E-band components and subsystems.
Read a technical paper on the Design of E-band Amplifier MMICs
Read a technical paper on an E-band subharmonic IRM MMIC